New single Jennifer Ewbank released
Jennifer Ewbank's latest single "Kiss Me Goodbye" is now available on (amongst others) iTunes and Spotify.
The single was recorded in the EHI Musica Recording Studios in Nishihara Mura, Japan.
The production was a nice collaboration between Jesse Buitenhuis, Edwin Huits, Jennifer Ewbank, George The (George Baker Selection).
All the profit of this single will go to the victims of the Kumamoto Earthquake.
Download the single here:
https://itunes.apple.com/en/album/kiss-me-goodbye-single/id1111040034?l=en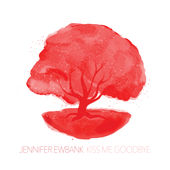 Credits:
Vocals: Jennifer Ewbank
Guitar / string arrangement by: Jesse Buitenhuis
Violins by: Hannah Hoogland & Emma Paalvast
Cello by: Jonas Pap
Produced by: Edwin Huits, Jesse Buitenhuis, George The & Jennifer Ewbank
Mixed by: Marcel Fisser / Gregor Hamilton
Mastered by: Darius Helfteren
Recordlabel / distribution: Cloud9